One Peter Fivers Defend Knights Of Malta Fra Festing's Policy Of Flooding Europe With Muslim Refugees....Remember Lampedusa?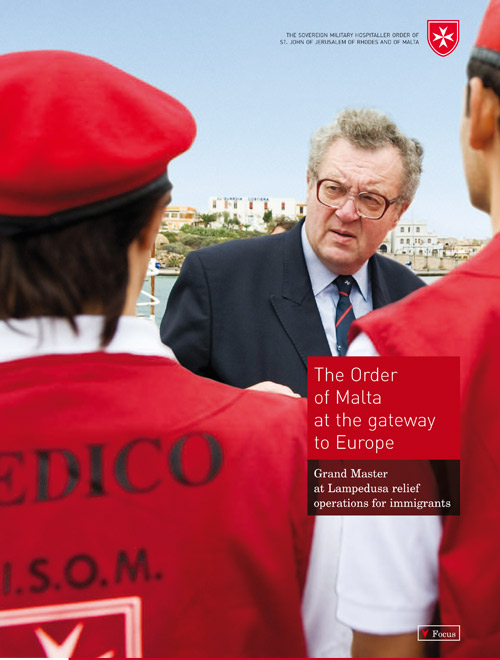 ONE PETER FIVERS POEM IN PRAISE OF FAT FESTING
Has Fra' Festing discovered his fight?
Will he rise to his status as Knight?
Or is this more of the same?
Another Vatican game
To rub salt in the wound of our plight.
There once was a Noble Man Festing
His status the Pope kept molesting.
When the Pope built a Wall,
Noble Men stood up tall.
Leaving Hor-hay to do some arresting!
Source
Immigrants Have Been Pouring Into Europe Through Lampedusa Since 2008....And Who Helped Them?
Fra Festing has the backing of the One Peter Fivers.
These same One Peter Fivers are also against MUSLIM refugees flooding Europe.
Again:
One Peter Fivers support Fra Festing
One Peter Fivers are against the MUSLIM invasion of Europe.
Here is a One Peter Fiver on the Muslim Invasion of Europe:
The world is reaping what has been sown. Hundreds of thousands of people have been displaced and are on the move, a massive sea of humanity flowing into Western Europe. They are also threatening to overrun the borders into Eastern European nations. The American and Western European governments are saying this is a "refugee crisis," and the news media, like good propagandists, run images of a few poor women and children, while neglecting to show us the rest of the situation. Not displayed is the mass of overwhelmingly young, healthy, well-dressed males, carrying the latest smart phones. Far from the starving widows and orphans one might imagine upon hearing the word, "refugee," these men have come to riot, rampage, and destroy..........We are witnessing the beginning of the next great Islamic invasion. It may well represent an existential crisis for the West. When the time comes, will we be ready to fight them? Everything we know and love is at stake.
Source
Yeah, OK, but I have to ask One Peter Fivers - who helped the MUSLIMS flood Europe?
Who helped the MUSLIMS arrive safely at
Lampedusa?
Fra Festing
Reign: 11 March 2008 – 28 January 2017
Order of Malta in the forefront in rescuing and assisting migrants in Lampedusa
(Vatican Radio) Over 400 migrants arrived on the Italian Island of Lampedusa on Thursday after having been rescued by the Italian Navy in a series of rescue operations. They include 83 minors and at least ten new born babies. The migrants come largely from Eritrea, Nigeria, Syria, Tunisia, Ethiopia and Mali. The Italian Rescue Corps of the Order of Malta is present on the Island with its medical skills and means to assist in receiving and lending care to those who arrive, often in fragile health and psychological conditions. Vatican Radio's Francesca Sabatinelli was in Lampedusa to report on the situation. She spoke to Albrecht von Boeselager, Grand Hospitaller of the Order of Malta about the work of the men and women of the Order of Malta who are currently working in Lampedusa…The Grand Hospitaller also speaks of the work of the Sovreign Order of Malta in many central African nations like Mali, where - he says - the situation is desperate. He talks of the committment on the part of the Order to bring relief and assitance to refugees fleeing the Syrian conflict where hostilities have brought about the total breakdown of society in a nation of ancient culture and inter-religious tollerance. Von Boeselager also speaks of the need to change our perception of those we call "illegal" immigrants - men and women created in the image of God and who should be received and recognised for their dignity of human beings.
Source
Festing reigned for 3245 days and in that time the Knights of Malta have safely brought to shore Hundreds of Thousands of Muslim Refugees
It is a fact that under the leadership of Festing the Knights of Malta flooded Europe with Hundreds of Thousands of MUSLIMS.
A question for One Peter Fivers - if you are so dead set against the Islamization of Europe then why do you give your support to man who help flood Europe with these very same MUSLIMS you abhor?
Here for you One Peter Fivers history on the man behind the Lampedusa operation five months after he was elected in 2008: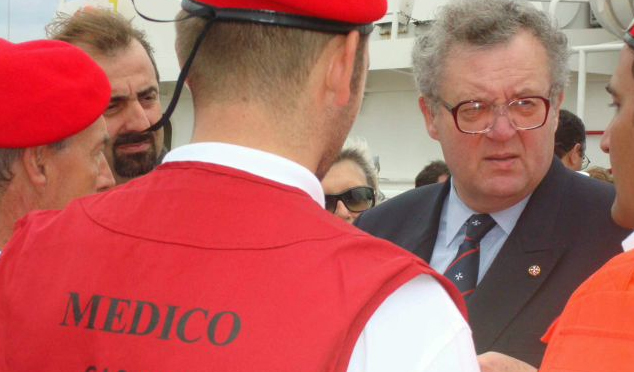 Assistance for immigrants: the Grand Master of the Order of Malta on Lampedusa
On 11 and 12 October, 2008 Grand Master Fra' Matthew Festing went to Lampedusa to meet the doctors and nurses of the Order of Malta's Italian Emergency Corps working on the coastguard's patrol vessels. Over the last six months, the Corps' volunteer doctors, nurses and helpers have been providing medical assistance on board the Lampedusa coastguards' ships to over 2,500 immigrants.
Dozens of children, including the newborn, have been assisted as well as numerous pregnant women, in many dramatic cases at serious risk of giving birth on board. The most frequent pathologies were dehydration and malnutrition, chemical burns, sunstroke, injuries from falls and cuts and grazes of varying seriousness. There were almost many cases of scabies.
On Saturday night the Grand Master was at the port of Lampedusa to attend the disembarking of 25 immigrants who, after five days at sea in a rubber dinghy, had been saved in the Strait of Sicily by the coastguards and treated by the Order's Emergency Corps' doctors. On Saturday morning the Grand Master, after having boarded the coastguard vessel CP 407 "Lolini", visited the Reception Centre on the island, stopping to talk to the immigrants and listen to their personal stories.
On Sunday, the Grand Master attended mass in the Reception Centre together with the immigrants and later on, on board one of the coastguards' ships, participated in the operations at sea. Fra' Matthew Festing, accompanied by a delegation of the Order and by coastguard representatives, expressed his personal thanks to all those who have contributed to the operation, in place for a year on 31 October 2008. On Lampedusa he had talks with the Mayor Bernardino De Rubeis, the Prefect of Agrigento Dr. Umberto Postiglione and local authorities.
The Order of Malta's Italian Emergency Corps
Founded in 1970, it mainly provides relief and assistance to populations hit by natural disasters. It deploys some 2000 volunteers (doctors, paramedics and helpers) in the three northern, central and southern areas. In 2007, Fausto Solaro del Borgo, President of the Italian Association, to which the Corps belongs, signed the agreement for integrated social solidarity projects with the Coastguard Commander in Chief, Admiral Luciano Dassatti. The joint activity on Lampedusa was launched on 27 April 2008.
Source
So one of Fra Festing's very first acts after he was elected was to visit Lampedusa the very island where MUSLIMS have been making their way to Europe ever since.
ONE PETER FIVERS CLUELESS COMMENTS IN PRAISE OF FESTING AND KNIGHTS OF MALTA:
I also posted pictures of FAT Festing with MUSLIM REFUGEES that were rescued by the Knights of Malta and brought to Europe - just in case you're a CLUELESS IDIOT reading this post.

Donna_Bethell • 3 days ago At last! We need a fight! God bless the faithful​ Knights and Dames of Malta!
jdumon Donna_Bethell • 2 days ago The current situation reminds me of the siege of Malta in 15.. 20000 knights were besieged by half a million turks. The turks were defeated !
Thomas J. Hennigan jdumon • 2 days ago Your figures are way off. There were only a few hundred knights and `perhaps 30,000 Turks. Do you think the Turks had the wheewithal to transport a half a million soliders? In those days nobody had.
Donna_Bethell Thomas J. Hennigan • 2 days ago Jdumon is right to invoke Malta. The year was 1565, only six years before Lepanto. And it was only a few hundred knights with a few thousand other soldiers against what should have been an overwhelming Turkish attack. The Catholic victories at Malta and Lepanto saved Italy, Rome, and possibly Europe, but they were not the work only of men. Extreme effort and heroism were required on the human side so that Divine Providence could complete what was needed. That is the lesson for us: we proceed with every possible effort against the odds so that God and our Lady can make up what we cannot achieve on our own. We cannot know how or when the victory will come. It is our role only to do our utmost as best we can determine, suffer defeats, and fight again.
Sheryl Nash-Dixon
• 2 days ago " Now this is not the end. it is not even the beginning of the end. But it is perhaps the end of the beginning." Winston Churchill The story made me think of the quote above. Maybe Fra Festig standing up to Francis will mark a turning point that we will one day look back on with gratitude.
hows_the_boy
Sheryl Nash-Dixon • 2 days ago From what I can tell Fra Festing must be the first to stand up to that bully in the Vatican. After four long years of his wicked tenure.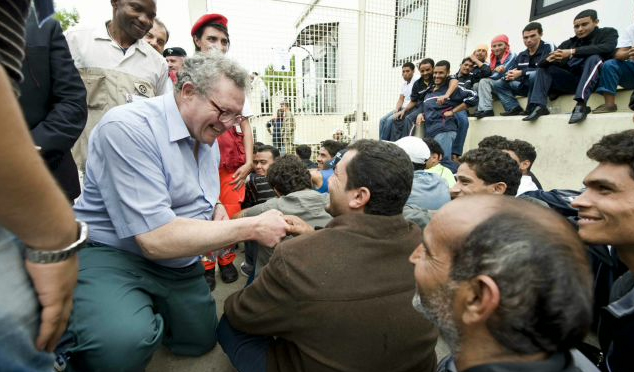 Evangeline1031 • 2 days ago I abhor violence or even ill will. Certainly in our church we wish to see peace and harmony. But it is time for a battle. If Fra Festing is re-elected, how many will rejoice at this small victory against the man, the men, who are openly waging war against Christ, against His Church and the faith, against us. There is a time that arrives, when people who love peace have had enough, and seeing there is no alternative but to fight, are ready to charge. God bless and help all those who love Holy Mother Church and will defend her. God be with Fra Festing.
Maggie Evangeline1031 • 2 days ago Yes, but the pope can squash him again even if he is re-elected. But glad he did come to Rome. The take over of the Order of Malta was a travesty and reinstating the contraceptive distributor for money reasons is sinful.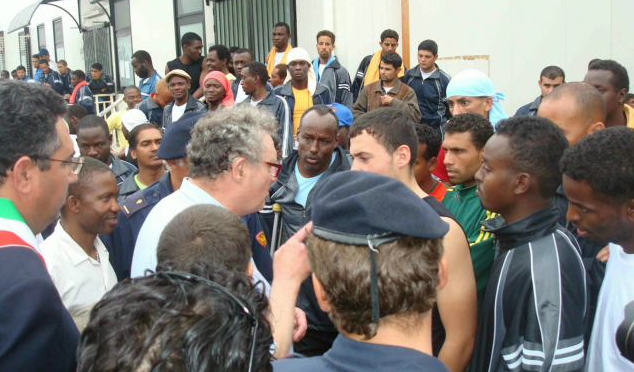 ranger01 • 3 days ago Good for him! Knight and soldier
GreggorytheGreat • 2 days ago The first Vatican order to tell Fra. Festing to stay away from the Vatican was malicious. The flipping of that order shows the Vatican is in itself confused and does not know what it is doing. The liberals in the Vatican can not govern the Catholic Church. They are taking the Vatican as a Secular Political State and are using the same tactics you see in the American Democratic Party. Let's hope and pray that Fra. Festing can get re-elected to head the Nights of Malta once again.
Frank Brown • 2 days ago Fra' Festing behaved exactly how a knight should do. By no means his resignation should be considered an act of weakness and his presence in the the election in Rome should be considered a challenge to anybody. Now it is up to the Council Complete of State to preserve the Catholic Christianity of the Order and its Sovereignity.
Legatus • 2 days ago I hope Festing by the grace of God is re-elected. All of these problems because the pope is not a leader, he is an arrogant cunning manipulator, cut from the same cloth as Obama. He should apologize to the world and resign, then run along in his cute vestments that we paid for.
Fr. RP Mod • 3 days ago May the Lord protect him from his enemies and may he increase his fortitude and resolve and grant his true brother Knights the same.
Brian Miles Mod Fr. RP • 2 days ago Amen! May the Lord God of Heaven rebuke all enemies of Fra. Festing, both visible and invisible!
Eugene Fr. RP • 2 days ago Amen Father. A good man treated most disrespectfully by a vicious and vindictive group right from PF on down.
Zlm Fr. RP • 15 hours ago We must continue in our prayers, not just for those dear to us but our enemies as well. Christ desires to win ALL in His Kingdom- we must be diligent to the end so that All as possible come into His Kingdom!!!! ( the evil one seeks to kill, STEAL, and destroy) We must be in prayer, fasting and reparation for just the opposite - Alleluia!!!!! To God be the Glory!