I Pray For The Destruction Of The Airline Industry During The Holy Sacrifice Of The Mass...Tornado Warning Forced Passengers Of Washington Dulles International Airport To Take Shelter Underground On Monday.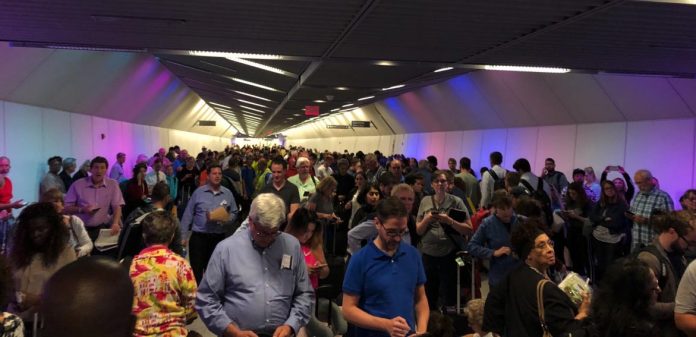 The darksome atmosphere is as a prison to the demons until the judgment day. They carry fire of hell with them wherever they go. The devils besought the Lord not to cast them into the abyss; for they asked for this, deeming it to be a punishment for them to be cast out of a place where they could injure men. Hence it is stated,They besought Him that He would not expel them out of the country. St Thomas Aquinas
In the year 1864, Lucifer together with a large number of demons will be unloosed from hell
Our Lady of La Salette 19 Sept. 1846
(Published by Mélanie 1879)
The demons of the air together with the Antichrist will perform great wonders on earth and in the atmosphere, and men will become more and more perverted.
Our Lady of La Salette 19 Sept. 1846
(Published by Mélanie 1879)
For the time has come when the most astonishing wonders will take place on the earth and in the air.
Our Lady of La Salette 19 Sept. 1846
(Published by Mélanie 1879)
Our wrestling is not against flesh and blood; but against Principalities and Powers, against the rulers of the world of this darkness, against the spirits of wickedness in the high places.
Ephesians 6:12
Tornado warning forced passengers of Washington Dulles International Airport to take shelter underground on Monday.
Extreme weather at Virginia's Washington Dulles International Airport forced passengers to take shelter underground on Monday. The airport also apparently moved fliers underground to the train tunnel out of an abundance of caution. The airport released a statement on Twitter warning passengers to "stay away from windows and listen to safety instructions provided by airport operations and gate agents.". Officials later said that the runways reopened and airport operations were resuming, but that the wicked weather could trigger more flight delays. "Tornado warning at Dulles airport. All passengers sent underground to the train tunnel," American Enterprise Institute president Arthur Brooks tweeted.
Source
Read St Thomas on the Habitat of Demons....
1. Question 64. The punishment of the demons
2. Question 74. The fire of the final conflagration