Comedian Brody Stevens KILLS SELF BY MEANS OF AUTO-EROTIC ASPHYXIATION At His LA Home....
Famous people who died by means of Auto-Erotic Asphyxiation:
1. Robin Williams
2. David Carridine
3. Chris Cornell
4. Michael Hutchence
5. Albert Dekker
6. Hide
7. Stephen Milligan
8. Vaughn Bodé
9. Martin Luther
10. Kevin Gilbert
11. Frantisek Kotzwara
12. Chester Bennington
13. Avicii Tim Bergling
14. Anthony Bourdain
15. Comedian Brody Stevens
Last Tweet of the Comedian:
Another celebrity death.
Death by hanging
Probably accidental: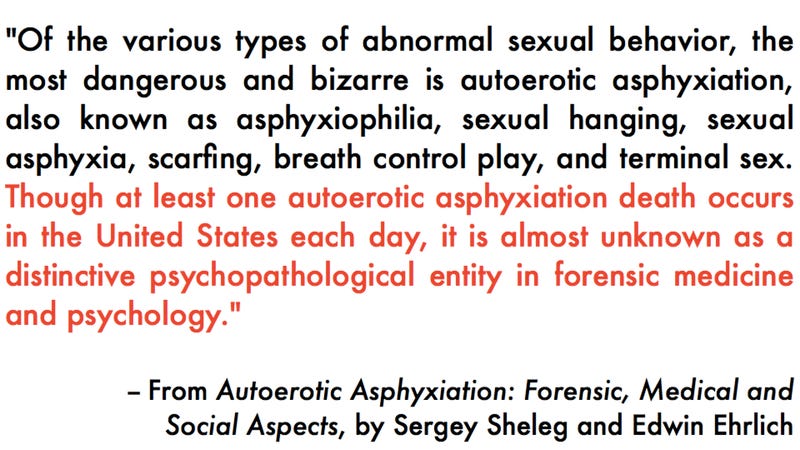 AUTO-EROTIC ASPHYXIATION is a Hollywood thing......
Of course the Atheists in Hollywood claim that the Comedian was depressed bi-polar etc....
Because no one in Hollywood wants to known for dying while Masturbating....LOL!
Comedian Brody Stevens, 48, who appeared in The Hangover and detailed his struggle with bipolar for a documentary dies in apparent suicide at his LA home
The comedy world is in mourning after learning that stand-up star Brody Stevens apparently hanged himself at his Los Angeles home on Friday. The Los Angeles Police Department is investigating Brody's death as a suicide by hanging. Investigators found Brody just before 1pm on Friday, The Blast reported. He was 48 years old.
Source
Hollywood Mourning Tweets:

AeA = EPIDEMIC