Six BLASPHEMOUS DRUNKS At FedEX Cup PGA Tour Event In Atlanta Get STRUCK By Lightning ....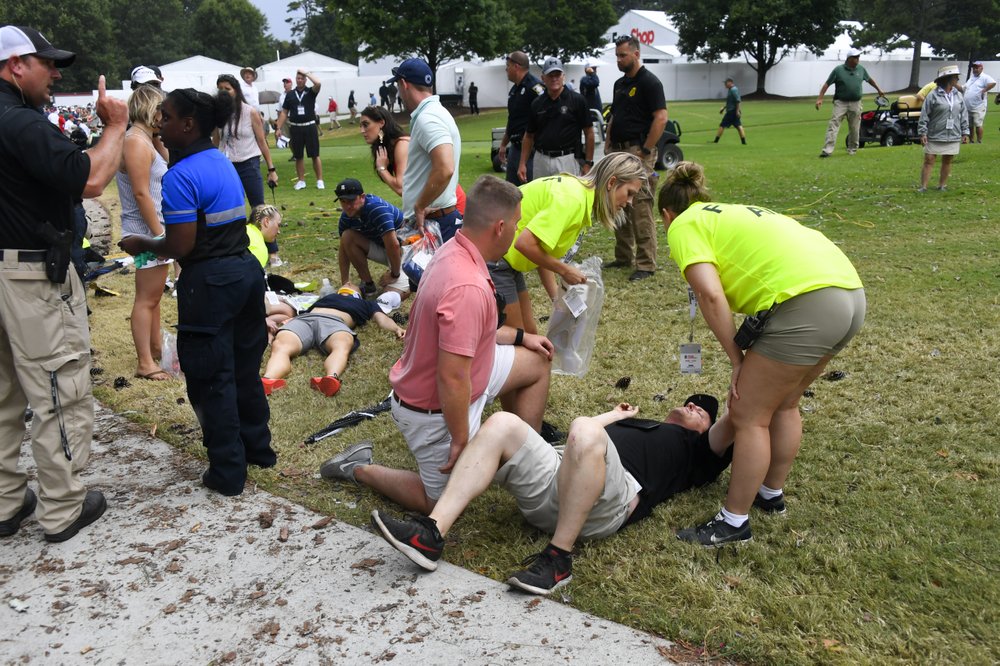 Lightning strike at Tour Championship causes 6 injuries
ATLANTA (AP) — Six people were injured Saturday when lightning struck a 60-foot pine at the Tour Championship where they were taking cover from rain and showered them with debris, Atlanta police said. The third round of the season-ending PGA Tour event had been suspended for about 30 minutes because of storms in the area, and fans were instructed to seek shelter. The strike hit the top of the tree just off the 16th tee and shattered the bark all the way to the bottom. Brad Uhl of Atlanta was crammed under a hospitality tent to the right of the 16th hole that was open to the public. "There was just a big explosion and then an aftershock so strong you could feel the wind from it," Uhl said after the last of the ambulances pulled out of the golf course. "It was just a flash out of the corner of the eye. It was raining and everyone was huddled near the tree."
Source
You already know that Golf spectators are obnoxious drunks..
So if a few of them are STRUCK by lightning sent by Divine Providence to send them a message..then that's a good thing...
Gin, juice and jingoism: are US golf fans the worst in sport?
The idea that American golf spectators are the worst fans in sports is hardly new, but Rory McIlroy's headline-grabbing suggestion to limit alcohol sales at PGA Tour events after the latest episode of bad behavior has placed them back in the spotlight. Which one assumes is how the "Get in the hole!" mouth-breathers like it anyway. Let's be clear: US golf fans exist in a separate category altogether from the hooligans or ultras who attend sporting events with the express purpose of committing acts of violence. And the well-lubricated attention-seekers blurting "mashed potatoes" and "Baba Booey" during players' backswings represent a tiny fraction of the spectators who adhere to, if not the heightened standard of golf etiquette, then a baseline of human decency. But there's something unnervingly rotten about the bad apples whose, let's be honest, predominately white male entitlement takes advantage of and corrodes what makes the sport unique, spoiling the experience for the majority.
Source
Maybe the ground will open up at the next golf tournament swallowing whole some blasphemous
obnoxious drunken golf fans.