THIRD WINTER EXPLOSION: HOUSTON EXPLOSION + 2 DEAD + 50 Homes DESTROYED + 214 Homes DAMAGED....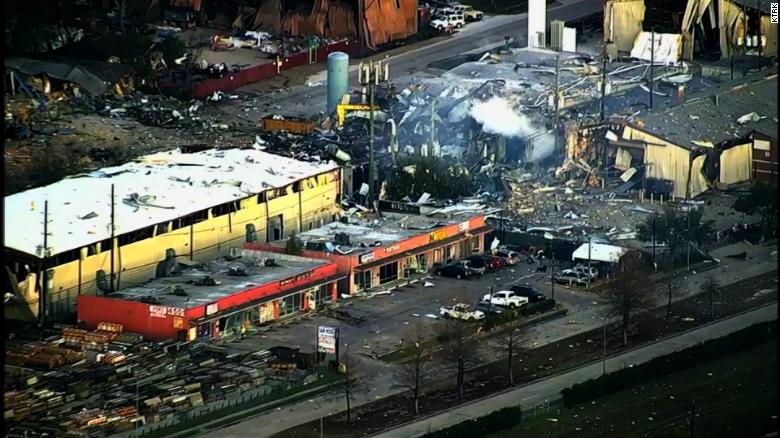 Winter explosions should be slower than Fall explosions....and Fall explosion less than Summer explosions....
I expect a lot of the Winter explosion to occur in Minnesota....

So far no Minnesota explosions..
This is the third winter Explosion...

24 JANUARY 2020
2 people killed in an explosion at a Houston manufacturer that shook the city and damaged homes
(CNN)Two people were killed in Friday morning's explosion at a northwest Houston manufacturing business, police said -- a blast shook much of the city, damaged buildings up to a half mile away and left some residents at least temporarily displaced. The explosion rocked Watson Grinding and Manufacturing around 4:15 a.m. CT (5:15 a.m. ET), tearing apart several structures while sending debris and shock waves much farther, pushing some nearby homes off their foundations, officials said. "This is, in essence, a disaster area right now," Houston Police Chief Art Acevedo said of the area roughly an 18-mile drive northwest of downtown. An investigation into what caused the blast is underway and may take months, Acevedo said. The two men who died in the blast were Frank Flores and Gerardo Castorena, both employees of the company, Houston Fire Chief Samuel Pena said. Pena said Friday evening that 214 homes were damaged in some way and, according to an initial rough estimate, about 50 were destroyed. Source
1 JANUARY 2020
Huge fire breaks out at north China's airport
A huge fire broke out at Jiamusi Dongjiao Airport in Northern China on New Year's Day. The video, filmed in the city of Jiamusi in Heilongjiang Province on January 1, shows an explosion followed by a huge fireball. According to reports, the sundries inside an airgate, which is under construction, caught fire. Firefighters put out the fire in ten minutes. No casualties were reported and the flights were running as normal. The case is being investigated, reports said.
Source
28 DECEMBER 2019