THE THIRD SUNDAY AFTER THE EPIPHANY, THE GOSPEL MT.8.1-13. FRIDAY MEDITATION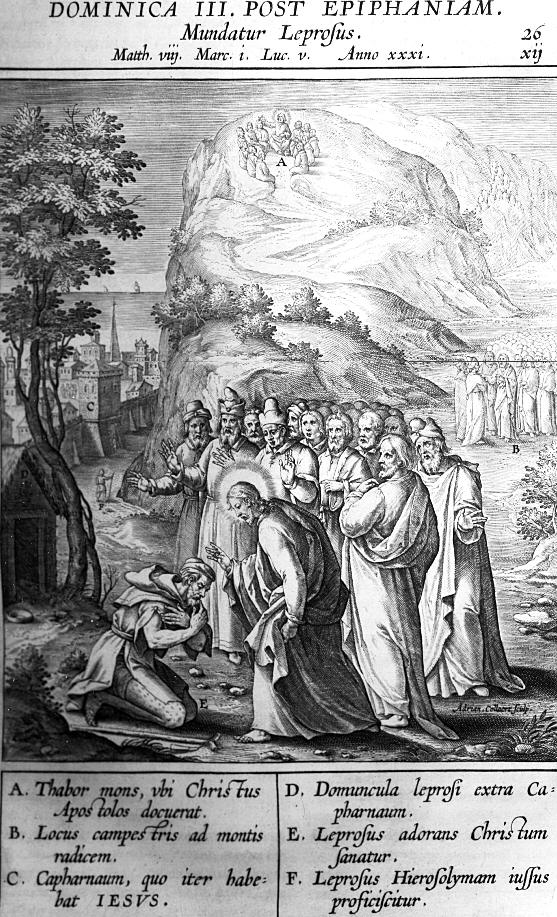 GOSPEL (Matthew 8 : 1 – 13)
At that time, when Jesus was come down from the mountain, great multitudes followed Him: and behold a leper came and adored Him, saying: Lord, if Thou wilt, Thou canst make me clean. And Jesus stretching forth His hand, touched him, saying: I will. Be thou made clean. And forthwith his leprosy was cleansed. And Jesus saith to him: See thou tell no man: but go, show thyself to the priest, and offer the gift which Moses commanded for a testimony unto them. And when he had entered into Capharnaum, there came to him a centurion, beseeching Him, and saying: Lord, my servant lieth at home sick of the palsy, and is grievously tormented. And Jesus saith to him: I will come and heal him. And the centurion making answer, said: Lord, I am not worthy that Thou shouldst enter under my roof: but only say the word, and my servant shall be healed. For I also am a man subject to authority, having under me soldiers; and I say to this one: go, and he goeth; and to another, Come, and he cometh; and to my servant: Do this, and he doeth it. And Jesus hearing this, marveled, and said to them that followed Him: Amen I say to you, I have not found so great faith in Israel. And I say to you that many shall come from the east and the west, and shall sit down with Abraham, and Isaac, and Jacob in the kingdom of heaven: but the children of the kingdom shall be cast out into the exterior darkness: there shall be weeping and gnashing of teeth. And Jesus said to the centurion: Go, and as thou hast believed, so be it done to thee. And the servant was healed at the same hour.
Friday
We will leave the leaper, that desired health for himself of Christ, and come to the Centurion that desired, health for another, to wit, his servant.
And peradventure those two were joined together in the gospel to signify that we must pray for others as well as for ourselves, especially the necessities of God's Church, the souls in purgatory, and conversion of such as be out of the way of salvation, either by ill life, or misbelief.
We read of some in the scripture that desired health for themselves, or children or friends, and obtained it.
For their servants none, but this good Centurion, or Captain of a hundred men, (for so the word Centurion doeth signify) a man of authority as appeareth by his words, I am a man in authority, and have soldiers, and servants under me, and I say to one go, and he goeth, and to another come, and he commeth, and to my servant do this and he doeth it.
This man came to Christ himself in person, where as he had servants to send and he importuned him to make haste, for Christ answering he would come himself, and cure him; he, fearing some little delay at least, urged for present dispatch, and said: Lord, say the word only, and my servant shall be whole, meaning, he should presently send one of his disciples, him command so to do it forth and: give power, and with, and that this was the sense, of these words, appeareth by way of explication of his mind for I (saith he ) have servants under me, and I say to one go, and he goeth, and as it he should say, And so may you, having disciples under you.
Where we may observe also by his words, that this sick. servant was not sent to an hospital, nor placed out of the house, (as many use) but as the Centurion said, he lay sick in his house.
A singular example of the care Masters should have of their servants when they are sick or in distress; for if we be bound in charity not only to relieve neighbors, but strangers that are in distress: much more our domestic servants.
All men are by nature free, and not servile one to another; servility came into the world by sin; Noe for for the sin of his son Cham toward him, finding against nature by discovering his fathers shame to his brethren, and deriding him; cursed him, and pronounced this sentence upon him (God ratifying the same) that he should be a Servant unto the servants of his brothers: till then there is no mention in the scripture of any man that was servant to another: since that servility increased more, and more thorough sin, to wit pride ambition pomp vanities, and other sins, and curiosities of men which cannot be maintained without servants: for as much therefore as men are not servants one to another by nature, but by sin: & that bodily servitude of one free man to another (being all equal by nature, and Christianity if they be Christians ) whom therefore we call our even Christian, be they never so much inferiors to us in fortunes, is so great a subjection, as is not valuable; for money: Masters have reason to have a great care of their domestical servants, as this good Centurion had, thinking that food, and wages is not a sufficient recompense for their bodily service, but only a necessary supply, without which they could nor do service, & that the recompense of it must be left to God, if they do their service as unto God: which how it is to be done, and of the reverse there of , and how Masters should use their servants, Saint Paul declareth at the full, in these words: Servants, saith he, obey your carnal Masters in fear, and trembling, in simplicity of heart; as unto Christ, not serving to the eye, as pleasing men, but as the servants of Christ doing the will of God out of a good will, as serving God, not men; which if they do he doerh comfort them thus: knowing, saith he, that every such servant shall receive of our Lord for what so ever good he doeth, to wit, a just reward for their service, which their Masters cannot do.
Howe diligent should servants be to their Masters that shall be so well required at the hands of God?
And in the end of the ſentence aforeſaid Saint Paul convert his speech unto Masters, saying thus: And you Masters do the like to your Servants abstaining from threatening, knowing you have all one Master, our Lord in heaven, and that with him there is no acceptation of persons: Thus did this good Centurion, it should seem, which made his his servants so obedient, and ready, to go or come or doe what he bid them, as they will do rather by fair means then foul.
A PLAINE PATH-WAY TO HEAVEN BY FR.THOMAS HILL 1634