THE THIRD SUNDAY AFTER THE EPIPHANY, THE GOSPEL MT.8.1-13.SATURDAY MEDITATION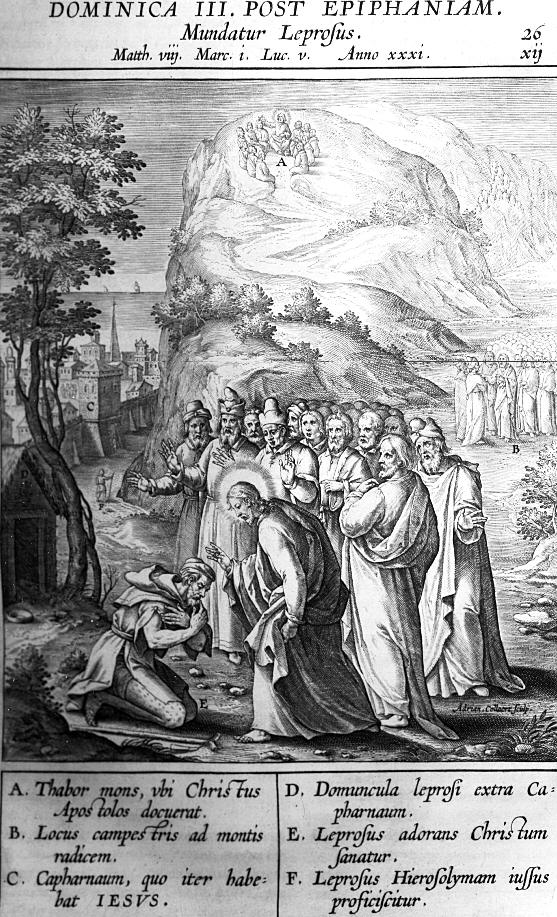 GOSPEL (Matthew 8 : 1 – 13)
At that time, when Jesus was come down from the mountain, great multitudes followed Him: and behold a leper came and adored Him, saying: Lord, if Thou wilt, Thou canst make me clean. And Jesus stretching forth His hand, touched him, saying: I will. Be thou made clean. And forthwith his leprosy was cleansed. And Jesus saith to him: See thou tell no man: but go, show thyself to the priest, and offer the gift which Moses commanded for a testimony unto them. And when he had entered into Capharnaum, there came to him a centurion, beseeching Him, and saying: Lord, my servant lieth at home sick of the palsy, and is grievously tormented. And Jesus saith to him: I will come and heal him. And the centurion making answer, said: Lord, I am not worthy that Thou shouldst enter under my roof: but only say the word, and my servant shall be healed. For I also am a man subject to authority, having under me soldiers; and I say to this one: go, and he goeth; and to another, Come, and he cometh; and to my servant: Do this, and he doeth it. And Jesus hearing this, marveled, and said to them that followed Him: Amen I say to you, I have not found so great faith in Israel. And I say to you that many shall come from the east and the west, and shall sit down with Abraham, and Isaac, and Jacob in the kingdom of heaven: but the children of the kingdom shall be cast out into the exterior darkness: there shall be weeping and gnashing of teeth. And Jesus said to the centurion: Go, and as thou hast believed, so be it done to thee. And the servant was healed at the same hour.
Saturday
Lord I am not worthy thou shouldest enter under my roof.
Though the leaper demanded health of Christ with great faith saying, Lord if thou wilt, thou canst cure me, and with great reverence, and devotion, coming, and adoring him prostrate as Saint Luke saith, and with great confidence in Christ that he would cure him, else would he have beſought Christ with more earnest supplication, then only this, Lord if thou stile thou canst cleanse me; yet this Centurion exceeded him.
Concerning his faith, Christ testified of him he found none so great in Israel, for his reverence, and humility these his words declared what it was Lord.
I am not worthy thou shouldest come under my roof for confidence, and trust in Christ, he said if he did but send any of his Servants to cure his servant, it was enough, which request being so easy he doubted not but he would grant which words of the Centurion, and those that follow, for I am a man under authority, and have servants my self, and I say to one, go, and he goeth, and pleased Christ exceeding well, and he commended him very much wherein he commended also implicitly, or covertly he gave this lesson unto us, that sometimes out of the more reverence, & humility toward him.
We presume not to offer up our prayers to him immediately our self but by the intercession, and mediation of his servants in earth or Saints in heaven, desiring them to pray unto God for us, and with us for such things, as we would have; and that this doeth please him better, then to reject them, as frivolous, or dishonorable to God, he having so ordained it to his own greater reverence, & honor of his servants.
So did God send certain men, that had offended God, to Job to pray, and offer Sacrifice for them to pacify his displeasure.
And if God doe thus with his servant lob here on earth, as he did, and with diverse others; no doubt but he doeth the like with his servants, and Saints in heaven.
Also he said he was unworthy, in regard he was a gentile or heathen man: so we may deem our selves unworthy in regard of our heathenish conditions.
Likewise towards the blessed Sacrament of the body of Christ, we may exercise the like reverence, and devotion, saying unto God, Lord l am not worthy thou shouldest ordain for me a Sacrament, wherein thou thy self in real presence shouldest come to me to feed, and cherish my soul: it had been sufficient thou had done it by any of thy creatures, which are thy servants, and may command them with the least word of thy mouth: which words being spoken or conceived in our minds, with such reverence, and humility as the Centurion did, would no doubt be very pleasing to God, as his were.
Also when without just cause we observe not due hours and times of coming to divine service, but make that to tarry for us, and our time: we do in this rather make God to come unto us, and to wait on us, then we on him. Saint Peter said unto Christ: Lord depart from me a sinner.
The Genaserites desired Christ depart out of their coasts.
Saint Peter spake it to show his unworthiness, not his unwillingness to have the presence of Christ: The Genaserites to show their unwillingness.
In receiving the blessed Sacrament of the body of Christ we may say as the Centurion Lord, I am not worthy thou shouldest enter under my roof; or with Saint Peter, Lord depart from me a sinner, to show our unworthiness, not our unwillingness; but not with the Genaserites to show our unwillingness, and to make our unworthiness the cloak thereof, as many do, abstaining from the holy Eucharist for a long time together under the color of humility, rather then they would not leave their brutish pleasures, and delights, as the Genaserites their hogs.
And when we do receive Christ in the holy Eucharist, to do it with great desire, with joy, thankfulness, and purpose of amendment, of what is amiss: as Zacheus did, who out of a great desire to see Christ as he passed by, in a throng of people, which he could not well, being a very little low man, climbed up into a tree, afterwards he joyfully received him into his house, and having him there said unto him: Behold Lord I give half I have to the poor, and if I have defrauded any man (as he was faulty in that no doubt being a publican, and one of the chief of them.) I will restore four fold; behold with what fervor, and purpose of amendment of our life we ought to come unto Christ in the blessed Sacrament of the Altar.
A PLAINE PATH-WAY TO HEAVEN BY FR.THOMAS HILL 1634