Ukrainian-born tycoon Mikhail Watford DEAD BY MEANS OF AUTO-EROTIC ASPHYXIATION!
Could never understand the need to have a woman close by in this business.......
Ukrainian-born tycoon Mikhail Watford who was found hanged in garage of his £18m luxury Surrey mansion 'feared he was on Putin hit list'
A Ukrainian tycoon who was found hanged in the garage of his Surrey mansion had been 'worried for two years' after being told he was on Vladimir Putin's hit list, a close friend has claimed. A female neighbour of Mikhail Watford, 66, said the property mogul - who made his fortune in oil and gas - feared he was a prime target for the warring Russian president in the months leading up to his death. The body of Mr Watford was found Monday at his home in the luxury Wentworth Estate in Virginia Water, where properties sell for up to £20million. The neighbour also told the Sun that Mr Watford, known as Misha, had been a friend of Russian billionaire Boris Berezovsky, who was found hanged at his home in Ascot, Berkshire, in 2013. She claimed Mr Watford had told her that Berezovsky was murdered by an intelligence agency. The neighbour added: 'I find it hard to believe that Misha would have taken his own life. It doesn't add up.' News of Mr Watford's death emerged on the day Boris Johnson told the Commons that he will publish a full list of people associated with Vladimir Putin's regime, a significant proportion of whom will face sanctions.
Police were called after the property magnate, who is not among those oligarchs already sanctioned, was found dead at midday on Monday. His Estonian wife Jane, 41, posted a photo on social media showing her kissing her husband in the grounds of their mansion. It comes after the 2012 death of millionaire Russian businessman Alexander Perepilichnyy, 44, who lived in the exclusive St George's Hill area of Weybridge. Surrey Police were accused of 'incompetence' over their investigation amid claims he was poisoned, perhaps with a plant toxin known as 'heartbreak grass' – although a coroner concluded in 2018 that he died from natural causes. According to The Sun, a family friend previously said that Watford's state of mind could have been rattled over the war in Ukraine, launched by Russia last week. 'The timing of his death and the invasion of Ukraine was surely not coincidental,' the source told the newspaper. Another associate told The Sun Watford's death 'raises questions' after other suspicious deaths of Russian nationals.
Source
List of Hollywood deaths by means of Autoerotic Asphyxiation:
Robin Williams
David Carridine
Chris Cornell
Michael Hutchence
Albert Dekker
Hide
Stephen Milligan
Vaughn Bodé
Martin Luther -The Heretic
Kevin Gilbert
Frantisek Kotzwara
Chester Bennington
Avicii Tim Bergling
Anthony Bourdain

Brody Stevens

Keith Flint

Jeffrey Epstein

Sophie Xeon

Adam Perkins

John McAfee

Trevor Moore

Bob Saget

Jean-Luc Brunel

Mikhail Watford

.........................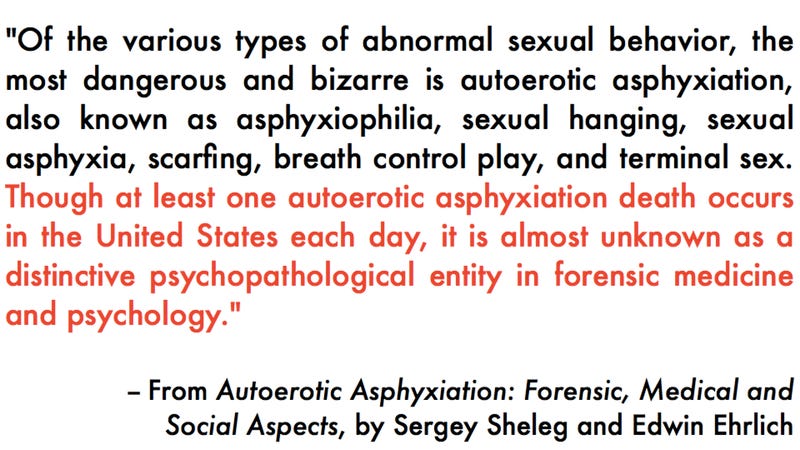 On my way back to America to push a few Russians out a DC Hotel Window......
****Oh and I saw you (again) on 72...its above your pay grade...and I haven't been paid since the early 80's....
Piss off.