Palm Sunday The Gospel Matt. 21.v.1 Monday Meditation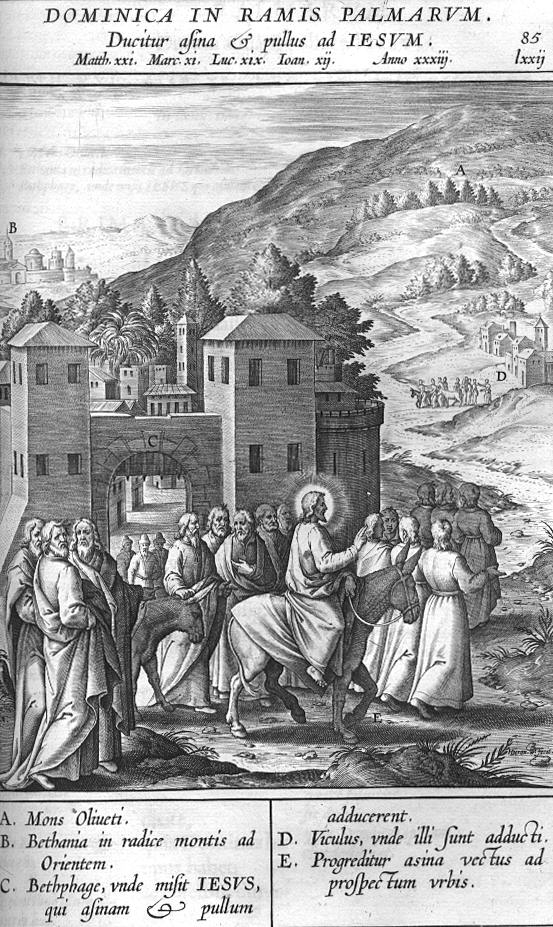 GOSPEL (Matt. 21:1-9)
At that time, And when they drew nigh to Jerusalem and were come to Bethphage, unto mount Olivet, then Jesus sent two disciples, Saying to them: "Go ye into the village that is over against you: and immediately you shall find an ass tied and a colt with her. Loose them and bring them to me. And if any man shall say anything to you, say ye that the Lord hath need of them. And forthwith he will let them go." Now all this was done that it might be fulfilled which was spoken by the prophet, saying: "Tell ye the daughter of Sion: 'Behold thy king cometh to thee, meek and sitting upon an ass and a colt, the foal of her that is used to the yoke.' " And the disciples going, did as Jesus commanded them. And they brought the ass and the colt and laid their garments upon them and made him sit thereon. And a very great multitude spread their garments in the way: and others cut boughs from the trees and strewed them in the way. And the multitudes that went before and that followed cried, saying: "Hosanna to the son of David: Blessed is he that cometh in the name of the Lord: Hosanna in the highest."
MONDAY
That Christ should send, not any of the people for the Ass and he Colt to ride upon, but of his disciples, and not one only of them: but two, and not for a horse or a mule, but an Ass, & a she Ass, with her Colt; and that the disciples, and some to the people should take their garments, and spread upon the Ass, and the Colt, and sett Christ thereon, first upon the one, and then upon the other, and some should cut down boughs of Olive and palm, & strew in his way. & salute him with this salutation, Hosanna, that is to say (health and victory) be to the son of David; blessed be he that cometh in the name of our Lord God, Hosanna in the highest that is to say in the highest and most ample manner.
All these actions and gestures are signs and significations of other things signified thereby, as shall be declared in the meditations following, and do signify as well as words, that are ordained to that purpose; and make a far greater impression in our minds, then words, and being referred to the honor and worship of God, as Christ did inspire the people to do here, (though they knew it not, bit only intended for the famous miracle of raising Lazarus to life, that had been four days dead to make him their king) they are godly Ceremonies, which Christ did not only approve, but applause: and in approving & applauding them, he approved and applauded the like, ordained by the Church this day, in imitation of this, and all others at other times of the year, to the honor and worship of God.
As upon Candlemas day, by bearing hallowed candles in procession; upon Ash Wednesday by taking holy Ashes; upon good Friday, creeping to the cross, and the like: which ceremonies do help our devotion very much.
For as hops being sustained with poles, and Ivy with trees, do wind themselves about them & run up a great height: so doth devotion clime up on high, by the assistance of holy Ceremonies, and elevate our soul to God, which was one cause why God, ordained so many ceremonies for the Jews in the old law, which they observed in most religious manner.
And if the things used by way of Ceremony be hollowed or sanctified, as St. Paul saith they may, by the word of God & prayer of the Church, as Ashes upon Ash Wednesday, candles upon candlemas day, boughs upon Palm Sunday are, and holy water all the year long: they are not only ceremonies but Sacramental, that is to say like unto Sacraments in some spirit, or Sacraments not that they give grace, as Sacraments do of their own operation, but by the prayer and benediction of Church, and our own devotion.
For if (as St. Paul saith) the creatures of God may be sanctified, and hallowed by the word of God and prayer especially of the Church, doubtless they do in some sort sanctify them that use them to that end.
A Plaine Path-way To Heaven Thomas Hill 1634