Fourth Sunday After Pentecost The Gospel Luc.5.v.1 Sunday Meditation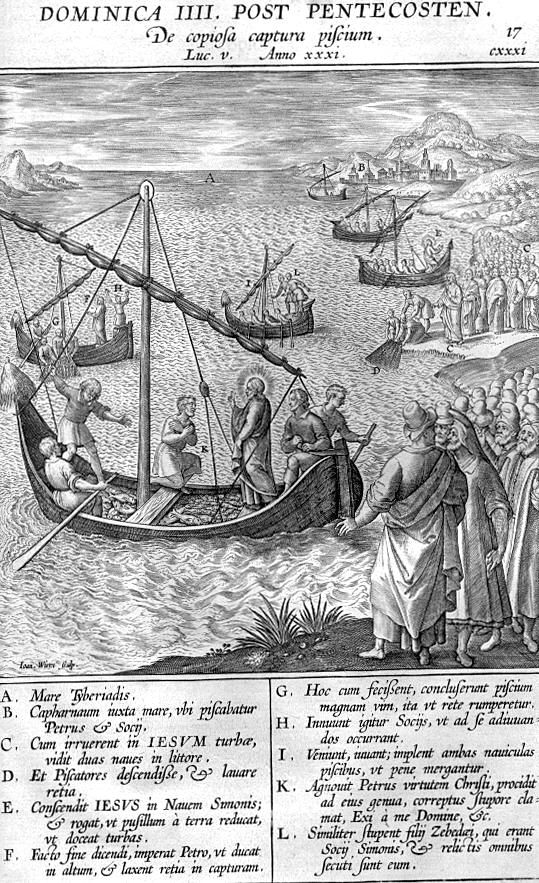 GOSPEL Luke 5. 1-11
At that time, when the multitude pressed upon Jesus to hear the word of God, He stood by the lake of Genesareth. And He saw two ships standing by the lake; but the fishermen were gone out of them, and were washing their nets; and going up into one of the ships that was Simon's, He desired him to draw back a little from the land: and sitting He taught the multitudes out of the ship. Now when He had ceased to speak, He said to Simon: Launch out into the deep, and let down your nets for a draught. And Simon, answering, said to Him: Master, we have laboured all the night, and have taken nothing, but at Thy word I will let down the net. And when they had done this, they enclosed a very great multitude of fishes; and their net broke: and they beckoned to their partners that were in the other ship, that they should come and help them; and they came, and filled both the ships, so that they were almost sinking. Which when Simon Peter saw, he fell down at Jesus' knees, saying: Depart from me, for I am a sinful man, O Lord. For he was wholly astonished, and all that were with him, at the draught of fishes which they had taken and so were also James and John the Sons of Zebedee, who were Simon's partners. And Jesus saith to Simon: Fear not, from henceforth thou shalt catch men. And having brought their ships to land, leaving all things they followed him.


We see by experience, every day, with how eager and greedy an appetite, we come to the food of our body (if we be in good health) greater sometimes, then we are willing for modesty sake to make show of, and especially with what eagerness, a young infant will come to the Teat, thrusting his mouth unto it, with all the haste and force it hath before the nurse can make it ready, and while he sucketh, how he will rejoice,and play with the Teat, handling it, and stroking it, and the like.
The word of God, is the food of our souls, it is our milk, so St, Paul calleth it: it is the Teat of our souls, of which the Prophet David sayth unto Almighty God thus: Thou hast prepared in my sight , or before me, a Table against all that trouble me, a Table against all that trouble me, nay which will make all my troubles comforts unto me, and make them sweet food of my soul.
St James sayth thus: Brethren, when you fall into divers temptations and troubles, think it a thing worthy of all joy: and he giveth the reason, for the probation of your faith, sayth he, which is by temptations and trouble worketh Patience, and Patience maketh our work perfect.
And St.Paul more at long: We do glory saith he, in tribulation, for tribulation worketh patience probation, probation hope, hope is not confounded,but giveth testimony that Charity, that is toss, the love of God above all things, is diffused in our hearts, which when we find, is a greater comfort unto us, then the world can afford: Of which St. Peter also sayth thus, In which day, that is to say, in the day of our death, or of our particular judgment, after death you shall exualt, or leap for joy, that you were constrained a little, in many tribulations (which he calleth but a little, though many, and divers) that the probation or trial of your faith, which is much more worth then gold that is tried by fire, may be found unto your praise, and glory and honor, in the revelation of Jesus Christ.
And by the probation & trial of our sayth, they do not mean that only,which we patiently suffer for the profession of our faith at their hands that perfect us for it ( though that be the chief;) but also all other crosses, contradictions, & troubles, whatsoever, we suffer for virtue sake, bearing them patiently, according to the rule & doctrine of our faith: nor that neither, but all our life is a probation or trial of ourselves, that is to say,whether we live in all things according to the prescript of our faith and religion, which if we do, though but in reasonable fashion, all the comfort of conscience, which is found, therein.
Now,if the word of God hath this virtue to turn our troubles into comforts (as it hath,if we hear it and believe it, and much more of we keep it) what can trouble us, unless is be the want of troubles? Our faith (saith St. John, that is to say the word of God which containeth in it our faith) is our victory,
A Plaine Path-way To Heaven Thomas Hill 1634