Daniel's Second Beast BEAR = SOCIAL MEDIA: WIKIFREAKS - ASSANGE ARRESTED IN LONDON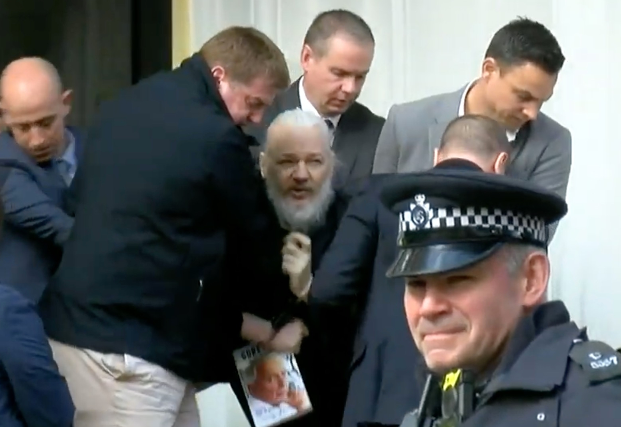 And behold another beast like a bear stood up on one side: and there were three rows in the mouth thereof, and in the teeth thereof, and thus they said to it: Arise, devour much flesh. Dan.7.4
The second Beast is Bear.
BEAR = SOCIAL MEDIA (Microsoft Facebook Apple Youtube Twitter Instagram Wikileaks Google Amazon's Alexa etc...)


Arise, devour much flesh......
Julian Assange faces up to 12 months in jail in Britain after being found guilty of skipping bail - as US charges him with hacking hundreds of thousands of classified documents hours after police dragged him out of Ecuadorian Embassy
Julian Assange is facing 12 months in a British prison after being hauled out of the Ecuadorian embassy in London after a seven-year stay following an extradition request by the US. The Wikileaks founder was arrested by British police officers on behalf of the US to answer a charge of conspiring with American whistleblower Chelsea Manning 'to break a password to a classified government computer' in 2010. According to court documents unsealed today, the charge relates to Assange's alleged role in 'one of the largest compromises of classified information in the history of the US' and he faces a maximum jail term of five years. Today he appeared at Westminster Magistrates' Court where he was found guilty of a further charge of failing to surrender following an extradition order from Sweden in 2011, following rape allegations made the year before.
Source
Here is my take on the Four Beasts:
The Four beasts of Daniel are:
FIRST BEAST LIONESS WITH WINGS OF AN EAGLE = THE AIRLINE AND SPACE INDUSTRIES
1. The first was like a lioness, and had the wings of an eagle: I beheld till her wings were plucked off, and she was lifted up from the earth, and stood upon her feet as a man, and the heart of a man was given to her
SECOND BEAST BEAR = SOCIAL MEDIA (facebook twitter etc...)
2. And behold another beast like a bear stood up on one side: and there were three rows in the mouth thereof, and in the teeth thereof, and thus they said to it: Arise, devour much flesh.
THIRD BEAST LEOPARD = NATIONALISM OF THE FORERUNNER TO THE ANTICHRIST (HE WHO MURDERS THE FATIMA POPE WITH AN ARMY MADE UP OF MANY NATIONS)
3. After this I beheld, and lo, another like a leopard, and it had upon it four wings as of a fowl, and the beast had four heads, and power was given to it.
FOURTH BEAST = THE ANTICHRIST (THIS IS CHURCH DOCTRINE AS ALL FATHERS TESTIFY)
4. After this I beheld in the vision of the night, and lo, a fourth beast, terrible and wonderful, and exceeding strong, it had great iron teeth, eating and breaking in pieces, and treading down the rest with its feet: and it was unlike to the other beasts which I had seen before it, and had ten horns.
All four beast are different from one another - the third and fourth beasts are political in nature but different - the third being man-made nationalistic political authority and the fourth being man-made universal political authority.
I think this is in line with what the Church Fathers would say.
If you find fault in this let me know.
Arise, devour much flesh......