UPDATE: Peter Rene Sanchez Montalvo, aka Carlos Arrested In ORANGE WRISTBAND DEATHS: 7 GAY MEN Overdosed On Drugs In Pittsburgh's GAY Trendy South Side Flat; 3 Dead + 4 Hospitalized
UPDATE
23 SEPTEMBER 2019
Peter Rene Sanchez Montalvo, aka Carlos arrested in the Orange Wristband deaths.
A California man will face federal charges in connection to a mass drug overdose incident on Pittsburgh's South Side over the weekend that left three people dead and four others hospitalized after police linked him to the orange paper wristbands worn by each victim. Peter Rene Sanchez Montalvo, aka Carlos, was arrested without incident at a house in McKees Rocks, Pa., the U.S. District Attorney's Office said in a news release Monday. He was charged with illegal distribution of a controlled substance resulting in death and serious bodily injury.
Source
Victims met at Insomnia Discotec in Brookline then went to the apartment for after hours 'party'
Carlos probably got the
fentanyl shipment from Mexico.
ORIGINAL POST 22 SEPTEMBER
Where's the ladies?
Best Gay Bars near South Side, Pittsburgh, PA
Source
Blue Moon
P Town
5801 Video Lounge and Café
Element
Real Luck Cafe
Brewers Hotel and Bar
Donny's Place
There Ultra Lounge
Men between the ages of 30 to 50 years old
One Gay man found unconscious in an apartment complex elevator around 2 a.m. Sunday
One Gay man found outside on the street
Five Gay men found in an apartment
Where's the ladies?
Oh and this.... Do you remember that famous GAY man Juan Carlos Cruz who sent Pope Francis a letter about his 'abuse' .... well he lives in Pittsburgh's trendy South Side Flats.....
Pope knew about sex abuse cover-up, says Chilean victim
Could all be coincidence...
But then again what kind of grown men take the same drug as a group?
And why would a grown man still wear his orange wristband for several hours after the 'event' was over?
Maybe its a suicide cult...
Or it could be something entirely unexpected...
7 people overdosed on drugs at a Pittsburgh apartment. Now 3 are dead, and 4 are hospitalized
(CNN)A night of excess at a Pittsburgh apartment ended with three people dead, four people hospitalized and a police department warning how quickly drugs can kill. Authorities responded to a report of an unconscious man in an apartment complex elevator around 2 a.m. Sunday. The man was pronounced dead at the scene, Pittsburgh Director of Public Safety Wendell Hissrich said. Shortly later, paramedics responded to another man a few blocks away, outside, who was "somewhat conscious" and had symptoms similar to those of the first man. He was taken to a nearby hospital, Hissrich said. Police traced both men back to an apartment on the city's south side. There, they found five other people who also apparently overdosed. Hissrich said he believed the victims were men between about 30 and 50 years old. "The victims -- including three people who died and four who remain hospitalized -- appear to have been at the same venue together, and then to have gone to a second location at a private residence where they apparently overdosed on drugs," Pittsburgh police said. "The victims all took the narcotics at the same time and in the same location." All seven people were wearing orange wrist bands -- stoking initial concerns that the health emergency may have started at a concert or event venue. "To be clear, this was not a case of a tainted drug being passed around or distributed in large volume at a large venue which could have affected even more people. It appears to have been isolated to a single location," Pittsburgh police spokesman Chris Togneri said. "Anyone who attended one of these events (with orange wrist bands) has no cause for concern regarding their health." But police said they are concerned about a potentially lethal batch of drugs in the community. "We remind the public not to use drugs," the department said. "Simply put: You do not know what's in that drug."
Source
FENTANYL : Incapacitating Agent
The information and recommendations below were developed to address a wide area release of fentanyl as a weapon of terrorism, and are not specifically intended to address exposures associated with fentanyl use as an illicit drug. NIOSH is currently in the process of reviewing more recent research and publications regarding appropriate emergency response guidelines for fentanyl. Consequently, some of the guidelines presented on this page may be different than recommendations for emergency response personnel responding to fentanyl used as an illicit drug. Please see this website for information for emergency response personnel responding to fentanyl as an illicit drug: https://www.cdc.gov/niosh/topics/fentanyl/risk.html.
APPEARANCE: Crystals or crystalline powder.
DESCRIPTION:
Fentanyl is a member of the class of drugs known as fentanyls, rapid-acting opioid (synthetic opiate) drugs that alleviate pain without causing loss of consciousness (analgesic). Fentanyl depresses central nervous system (CNS) and respiratory function. Exposure to fentanyl may be fatal. Fentanyl is estimated to be 80 times as potent as morphine and hundreds of times more potent than heroin. It is a drug of abuse. Fentanyl (and other opioids) could possibly be used as an incapacitating agent to impair a person's ability to function. In October 2002, the Russian military reportedly used "a fentanyl derivative" against terrorists holding hostages in a Moscow theater; 127 of the hostages died. (It is unclear whether the gas used also included other chemical agent(s).) Fentanyl is odorless.
METHODS OF DISSEMINATION:
Indoor Air: Fentanyl can be released into indoor air as fine particles or liquid spray (aerosol).
Water: Fentanyl can be used to contaminate water.
Food: Fentanyl can be used to contaminate food.
Outdoor Air: Fentanyl can be released into outdoor air as fine particles or liquid spray (aerosol).
Agricultural: If fentanyl is released into the air as fine particles or liquid spray (aerosol), it has the potential to contaminate agricultural products.
ROUTES OF EXPOSURE:
Fentanyl can be absorbed into the body via inhalation, oral exposure or ingestion, or skin contact. It is not known whether fentanyl can be absorbed systemically through the eye. Fentanyl can be administered intravenously (IV), intramuscularly (IM), or as a skin patch (transdermally).
Source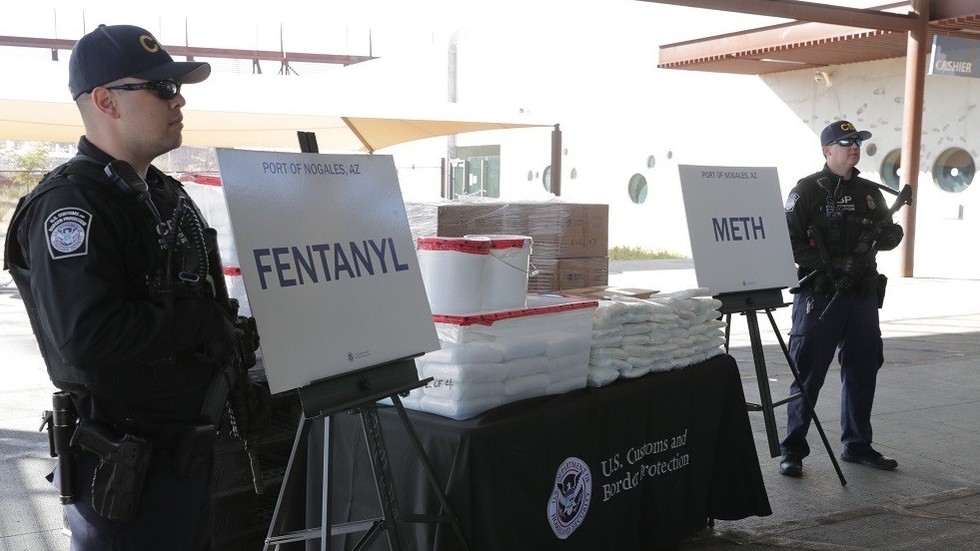 US Customs & Border Patrol agents caught a truck at the Mexican border loaded with meth and enough fentanyl to kill 57 million Americans."
Source