MEDITATIONS AND PRAYERS TO BE USED IN THE TIME OF THE DREADFUL SACRIFICE OF THE MASS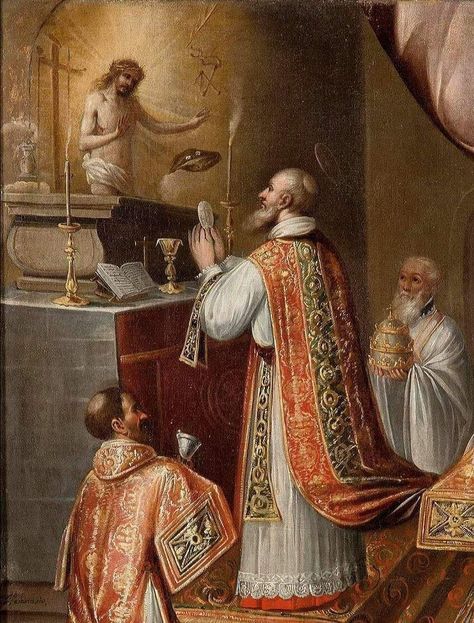 ****work in progress will publish every Saturday when finished.
MEDITATIONS AND PRAYERS TO BE USED IN THE TIME OF THE DREADFUL SACRIFICE OF THE MASS
ENTERING THE CHURCH SAY.
O Lord in the multitude of thy mercies, I will enter into thy house, I will adore in thy holy temple, and will confess unto thy name,
WHEN THOU SPRINKLE THY SELF WITH HOLY WATER, SAY.
Thou shalt sprinkle me & Lord with hyssop, and 1 shall be made clean: thou shalt wash me, and I shall be made whither then snow.
A MEDITATION BEFORE MASS.
What doest thou my soul? to what place art thou come? Loose thy shoes of from thy feet, for the place in which thou standest, is holy. Expect a while and thou shalt set sweetness dropping down from the mountains, and milk & honey fleing from the hillockes. Expect a while and thou shalt see the heavens open, & the bridegroom proceed from his bride chamber. Expect a while & thou shalt see Christ Jesus thy maker and redeemer perfect God and perfect man m #. Ferºnſ. Thou Shalºſºe out of hand this #. a paradiſe, for the Angels and Saints of heaven will deſcend to assist & wait upon their king the Lord of glory. Thou shalt ſee that ſacrifice offered, then which, none can be greater
- o F M Asse, 57 teror more acceptable vnto the hea- uenly Father.Thou shalf ſee finally not only *incly memºri;Preſenta | tion of § Passion off Y Saulour, but alſo thºſ: ſame Saujour although! ###########| ######, W scifºliºt * attentiue my ſomºr; thy self with true & firme aith,with confident hope,with ardent 'haritic, profound humility, anda O- :*Virtues, that thou mayeſt worthy. ; Preſent at this heavenly and dreeſ. ºſpectacle. Awake, ariſé, liſt vp thy *femy ſoule: looſe the chaines from thy necke Öcaptiue daughter of Sion, be thou ſanāified & Prepared for euen ºby Lord God ºil come, prepare thyſelfe with 8 tatreuerence to mere, idore, and waite "Pon him in the com: P*of al the court of heauen. —-rºw, neauen. A. *-- --- -
A PRAYER BEFORE MASS.
M Of paiſſant Lord and loving Fa- LV1 ther, great is the love and mercy which thou haſt shewed unto man: ſo not content to have bestowed thy only begotten Son on the cross for his redemption, thou hast also ordained his body and blood daily to be ſacrificed in the Church For his necessities and to be his ſpiritual food and refection. I beſeech Thee & Lord that as of thy singular love towards,vs thou haft ordained these heavenly myſteries for our salvation, and to make us mindful of the merits purchaſed unto vs, by the death of the ſame thy dear Son our Savior: ſo I may with due reverence and diligent remembrance of thoſe his bitter torments, aſſiſt here during the time of the oblation and celebration of this ſacrifice, and offer up my pºsitrº | P R A is Rs 1 N T 1 M E .- ind
= - -- ** of my mind all distractions, wicked thoughts. Graun. unto me! *me and conſtint faith, con Cerning' the beleefe of theſe inſcrutable myſte- *Bddlemy *P*guant reaſon.éeue * grace in this Inatter - diſtandſ; †ºorely only vpon y j; created aſ ºśs of nothing a | nd ther. | foºms; e Oſlé ance Info an ;
Lighten my memory and understanding, that I may call here to mind, and discourse of the bitter torments of thy Son. Stir up my will and move it effectually to produce and yield grateful affections of love towards thee, for these and all other inestimable benefits. Finally accept of the Precious body, and blood of our Savior thy Son, which shall be offered unto thee, in this Mass, to thine own honor, the good of thy Church, and the welfare of vs all. Through the merits of the same, our Lord Jesus Christ. Amen.
THE MYSTICAL SIGNIFICATION OF ALL THE PARTS OF THE MASS, AND ALMOST ALL THINGS THEREUNTO BELONGING:
Which may Serve for points of meditation, in the time of the oblation of this divine Sacrifice.
The Amis, or white linen veil which the priest first putteth on, representeth the veil with which the Jews covered the face of Christ when they buffeted him in the house of Caiphas. The, Albe, representeth that white garment which Herode put on him, to signify