THE THIRD SUNDAY AFTER THE EPIPHANY, THE GOSPEL MT.8.1-13.THE SUNDAY MEDITATION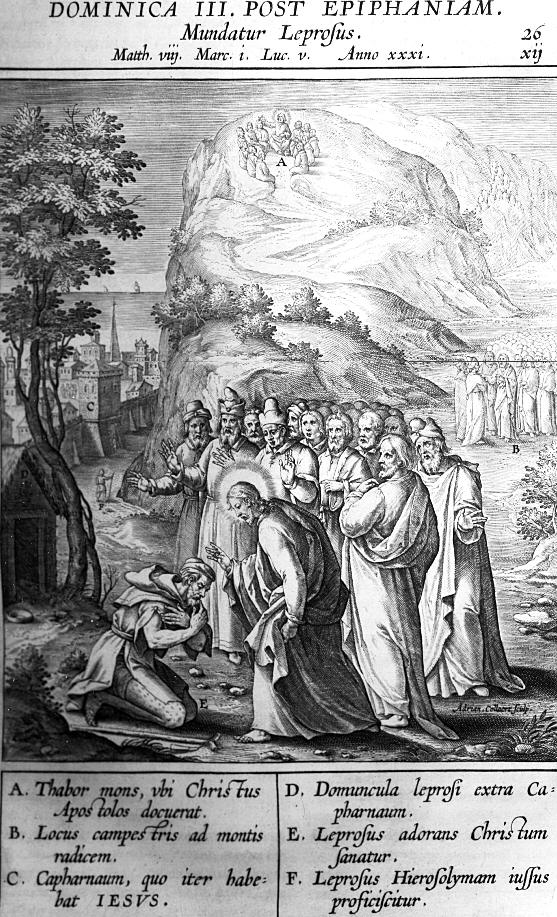 GOSPEL (Matthew 8 : 1 – 13)
At that time, when Jesus was come down from the mountain, great multitudes followed Him: and behold a leper came and adored Him, saying: Lord, if Thou wilt, Thou canst make me clean. And Jesus stretching forth His hand, touched him, saying: I will. Be thou made clean. And forthwith his leprosy was cleansed. And Jesus saith to him: See thou tell no man: but go, show thyself to the priest, and offer the gift which Moses commanded for a testimony unto them. And when he had entered into Capharnaum, there came to him a centurion, beseeching Him, and saying: Lord, my servant lieth at home sick of the palsy, and is grievously tormented. And Jesus saith to him: I will come and heal him. And the centurion making answer, said: Lord, I am not worthy that Thou shouldst enter under my roof: but only say the word, and my servant shall be healed. For I also am a man subject to authority, having under me soldiers; and I say to this one: go, and he goeth; and to another, Come, and he cometh; and to my servant: Do this, and he doeth it. And Jesus hearing this, marveled, and said to them that followed Him: Amen I say to you, I have not found so great faith in Israel. And I say to you that many shall come from the east and the west, and shall sit down with Abraham, and Isaac, and Jacob in the kingdom of heaven: but the children of the kingdom shall be cast out into the exterior darkness: there shall be weeping and gnashing of teeth. And Jesus said to the centurion: Go, and as thou hast believed, so be it done to thee. And the servant was healed at the same hour.
Sunday
While Christ was upon the top of a mountain with his disciples, instructing, and teaching them, in all things belonging to their calling, both how to carry them selves, and instruct others in such sort, that they might be the salt of the earth, & the light of the world: There were a great multitude of poor, lame, blind, and diseased people, at the foot of the hill, expecting his coming down, to heal, and cure them, as he used to do: which kind of impotent people were not able to go up the hill with him neither was it good manners, if they could; for he went up to be private with his disciples.
As alſo it might signify that those souls, that are full of spiritual diseases of sin, and imperfections, are not fit to ascend the mountain of heavenly contemplation, nor to exercise themselves therein: till they be cured of their diseases below in the valley of mortification, where they must attend till Christ descend unto them, by his holy grace to cure then first of their sins, and imperfections, that so they may become the disciples of Christ, and then to ascend with him to the mountain of contemplation, which none can do, till they be so made the disciples of Christ.
And this is the cause why those, that dedicate themselves to any Order of Religion, remain first in a probation or novice ship as it were in the valley of mortification, before they be admitted to ascend the hill of contemplation.
Those that begin fist with contemplation, for most part cake a preposterous course, and g the wrong way ( as they say) to the wood, and oftentimes loose them selves therein, or at least a great deal of labour in vain.
It is in vain, saith the Prophet David ( unto such ) for you to rise before the light.
Arise after you have sit down. You that eat the bread of sorrow, that is to say, it is in vain to rise to contemplation, or to think our contemplation can please, before wee have exercised our selves in. mortification, and eaten. the bread of sorrow for our sins which is the light unto contemplation; before which if we give our selves there unto; we are like them that rise to work in the dark.
They that would see, and enjoy God in contemplation must be pure of heart: the sweetness of contemplation God hath hidden from all, but those that fear, & serve him.
Though Christ was thus busied instructing his disciples as aforesaid: (a matter of great mystery to him and them) yet he forgot not the poor at the foot of the hill; but went down to yield them comfort, and cure of their diseases: where we may learn that as it is good to give our selves to prayer, and contemplation, and to dwell in the mountain of spiritual meditations, prayer, and praising of God: yet not so, as to neglect thoſe corporal works of mercy we are able to do, or others entreat or expect at our hands, or other wile occur unto us; which is lo necessary to be done, that we ſhall doe well to leave, and interrupt our prayers, and contemplation, for works of charity; and not works of charity for contemplation: as is probable Christ did break of his Sermon upon the mountain the ſooner, to go down, and cure those that expected his help.
And this is confirmed by the practice of religious persons , who for the conversion of any country to the Catholic Religion, leave their cloister of prayer , and contemplation, and apply them selves to that business; as a thing to be preferred before the other : for in there and the like charitable offices toward our neighbor wee doe but leave God in our prayers, and contemplation, to find him more profitably there.
And this we must endeavor to do with that promptitude, and alacrity, as a certain religions man did who when he was called by his Superior, and was even then making the letter ( 0 ) having but half made it, went away leaving it so imperfect, to obey the call of his superior.
A PLAINE PATH-WAY TO HEAVEN BY FR.THOMAS HILL 1634