THE THIRD SUNDAY AFTER THE EPIPHANY, THE GOSPEL MT.8.1-13.THE MONDAY MEDITATION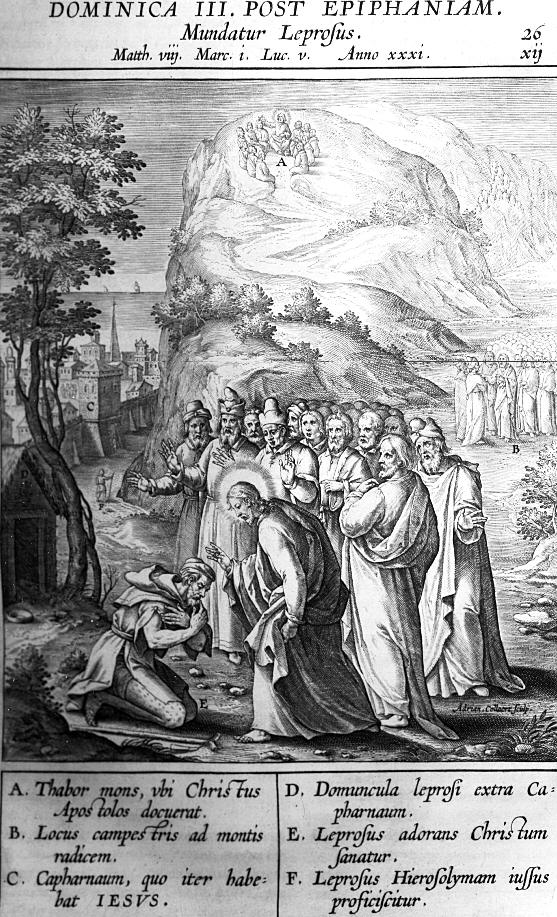 GOSPEL (Matthew 8 : 1 – 13)
At that time, when Jesus was come down from the mountain, great multitudes followed Him: and behold a leper came and adored Him, saying: Lord, if Thou wilt, Thou canst make me clean. And Jesus stretching forth His hand, touched him, saying: I will. Be thou made clean. And forthwith his leprosy was cleansed. And Jesus saith to him: See thou tell no man: but go, show thyself to the priest, and offer the gift which Moses commanded for a testimony unto them. And when he had entered into Capharnaum, there came to him a centurion, beseeching Him, and saying: Lord, my servant lieth at home sick of the palsy, and is grievously tormented. And Jesus saith to him: I will come and heal him. And the centurion making answer, said: Lord, I am not worthy that Thou shouldst enter under my roof: but only say the word, and my servant shall be healed. For I also am a man subject to authority, having under me soldiers; and I say to this one: go, and he goeth; and to another, Come, and he cometh; and to my servant: Do this, and he doeth it. And Jesus hearing this, marveled, and said to them that followed Him: Amen I say to you, I have not found so great faith in Israel. And I say to you that many shall come from the east and the west, and shall sit down with Abraham, and Isaac, and Jacob in the kingdom of heaven: but the children of the kingdom shall be cast out into the exterior darkness: there shall be weeping and gnashing of teeth. And Jesus said to the centurion: Go, and as thou hast believed, so be it done to thee. And the servant was healed at the same hour.
Monday
Concerning this point, how profitable to our souls, and pleasing to God it is, to leave him in our spiritual exerciſes and customs of prayer, and meditation, to find him in the works of mercy towards our neighbor: I will show by two or three examples.
When Moses. was upon the top of the mount Sinai with God, where he gave him the Ten commandments for the people, in the midst of that most sweet, and heavenly. contemplation, and conservation he had there with God, (which was so comfortable unto him, that it made his countenance seem to the people, to ſhine pith bright rays like the sun, and that is the reason he is painted with horns or rays of lights) God said unto his go down to thy people, which thou hast brought forth of Egypt.
Moses might have ſaid; (and so no doubt he thought ) Lord wilt thou have me to depart from this my ſweet contemplation of thee?
Can I do better, then still to remain here with thee in heavenly contemplation, is not this the thing thou most desires, that we should always be with thee?
No: when thy neighbor hath need of thy presence, and help.
Thy people, which thou hast brought forth of Egypt, hath sinned against me: go down to them, and help them out of there sin and whilst thou does this, thou does not leave me, but leaves me here, to find me more profitably there.
Christ himself, when he prayed the most earnestly that is ever he did, in the garden of Gethsemane , the night before his passion, and for a matter of the greatest importance, that could be: left, and broke of his prayers three times, and went to comfort his three disciples Peter, John, and James whom be took thither with him, and were in heaviness for him.
A certain Franciscan fryer being at his prayers, our blessed lady appeared unto him, and spake unto him such sweet, and comfortable words as he was exceedingly: delighted, and as it were ravished there withal: yet hearing a sick body groan in the Infirmary, left our blessed lady, and went away suddenly to see what he wanted and afterwards returned to his prayers again, and being at his his prayers, our blessed lady appeared unto him again, and gave him thanks for his good work.
As they that give themselves to do good works must join prayers of: meditation with chem or rather prevent them there with, if they can, to direct them to God, according to their nature, and true ends: So they that give themselves to prayer , and meditation, must join the practice of good works thereunto; whereunto prayer, and meditation chiefly serveth: for though prayer, and devotion be of a higher dignity in it self, yet good-works are more necessary to salvation.
The contemplative. life is of greater dignities, but active of greater necessity, for charity is the fulfilling of the law, charity is to another, not to ourselves, charity cannot be between less then twain but contemplation is to ourselves, and is a kind of taste,or obscure shadow of that perpetual contemplation, and fruition of God which we hope for in heaven: but works of charity bring us thither it is not enough for us to serve God with interior acts: but with exterior also.
God must be served with both, because he is Lord of both.
In figure whereof, the Jews were commanded to offer to God, among other Sacrifices, that which was called a holocaust, wherein all the Sacrifice was burnt, and conſumed to God, and nothing saved to themselves.
To both these Saint Paul exhort us thus: lift up pure hands in prayer that is to say join good works (signified by the hands) unto prayer: which ceremony of lifting up our hands in prayer , and Saint Paul's words together may serve to put us in mind, hereof, when we are at our prayers.
A PLAINE PATH-WAY TO HEAVEN BY FR.THOMAS HILL 1634