The Second Sunday After Easter The Gospel John 10 v.11 Tuesday Meditation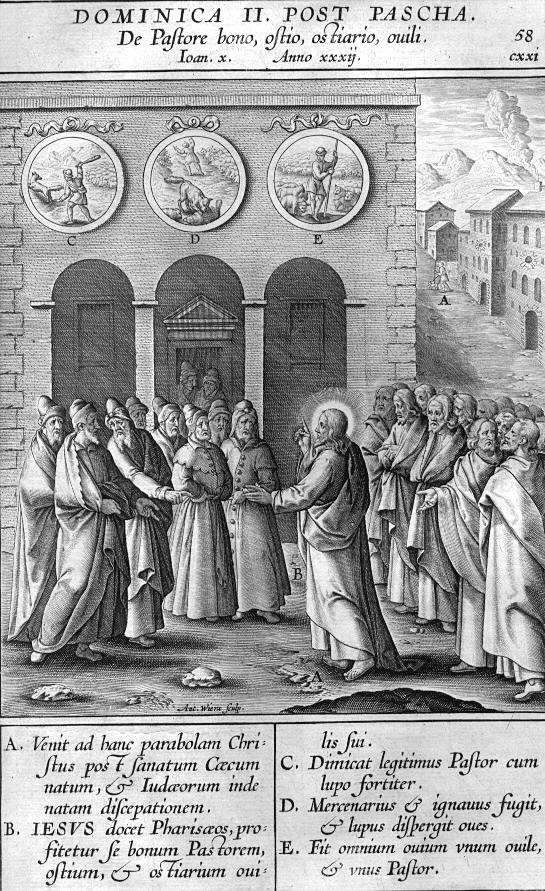 At that time Jesus said to the Pharisees: I am the good shepherd. The good shepherd giveth his life for his sheep. But the hireling, and he that is not the shepherd, whose own the sheep are not, seeth the wolf coming, and leaveth the sheep, and flieth: and the wolf catcheth, and scattereth the sheep: And the hireling flieth, because he is a hireling: and he hath no care for the sheep. I am the good shepherd; and I know mine, and mine know me. As the Father knoweth me, and I know the Father: and I lay down my life for my sheep. And other sheep I have, that are not of this fold: them also I must bring, and they shall hear my voice, and there shall be one fold and one shepherd.

TUESDAY
The manner how Christ our good Shepherd gave his life for his sheep maybe expressed by this example Valerius Maximus, amongst the ancient historiographers one of the most noble, discoursing of the piety we owe to our country, relateth that Codrus an Emperor of the Athenians had a will to infer war upon another country, and having levied a great army was desirous to know before had what would be the event of the war. He went unto the Oracle of Apollo, that is, to one of their Idol or false Gods, or rather devil that used to foretell future things to know the event.
The Idol, that is to say the devil (for as the prophet David sayth, all the gods of the heathens are devils) answered that unless he himself, to wit the Emperor died in the war, his army should not have the victory, which thing being known by some chance to his adversary, a proclamation was set forth that none of the Army under pain of death should Kill the Emperor though they found him unarmed in the midst of their army, which proclamation when the Emperor understood (for there were spies on both side, as commonly there are) because he would not have his army overcome, he changed his apparel, and put on apparel of very poor man, with a burden of wood upon his shoudlers, and so got into the midst of his enemies, to the end he might be slain; which fell out so indeed, for being know to no man he was slain for a spy, and presently a wonderful thing to see, the victory which was before very ambiguous & doubtful began to tuen on the Emperors side, & at last they quite conquered and got a famous victory.
Thus hath our good shepherd fought for us his sheep against all the infernal wolves of hell; and gotten the victory for us by his own luntarie death after a most noble & pious fashion as the Emperor Cordus did for his country. I say voluntary death, because thought his heavenly Father's will was he should die for the redemption of the world, & the Jews were so maliciously bent against him that no less would give them satisfaction, yet he also, as voluntarily as if it had not been so, offered up his life for us, and suffered many other grievous afflictions & torments besides, which he needed not, out of his superabundant love towards us and obedience to his Father, that we might be incited thereby yo love and obedience towards God.
And that we might learn that whensoever any cross or affliction happeneth unto us which we cannot avoid without the offence of God, to add our own not only patience but willingness there unto as Christ did to his cross, and so make a necessity of virtue, and a virtue of necessity, whereby we shall not only show our obedience & love to God, but a prudent care of our own greater good, taking so good an opportunity to make a double benefit thereof, one of greater merit in the next world, another of comfort and consolation in this.
For as the prophet David sayeth to God of himself but in the person of others, according to the multitude of my sorrows, or afflictions (to wit not only patiently but willingly sustained) thy consolations have cheered my soul.
A Plaine Path-way To Heaven Thomas Hill 1634